Making it Real:
A Policy Programme for UK Documentary Film
by Steve Presence, Andrew Spicer
and Alice Quigley
'We really welcome the publication of Making It Real. Last year's report Keeping It Real provided an essential review of the state of the independent documentary sector in the UK. Making It Real is the next step in establishing appropriate and practical policy priorities to create a sustainable sector, which already makes a major contribution to the cultural and economic life of the UK. Making It Real provides the agenda for future discussions across the whole of the feature documentary sector.' (Christo Hird, Documentary Producers UK)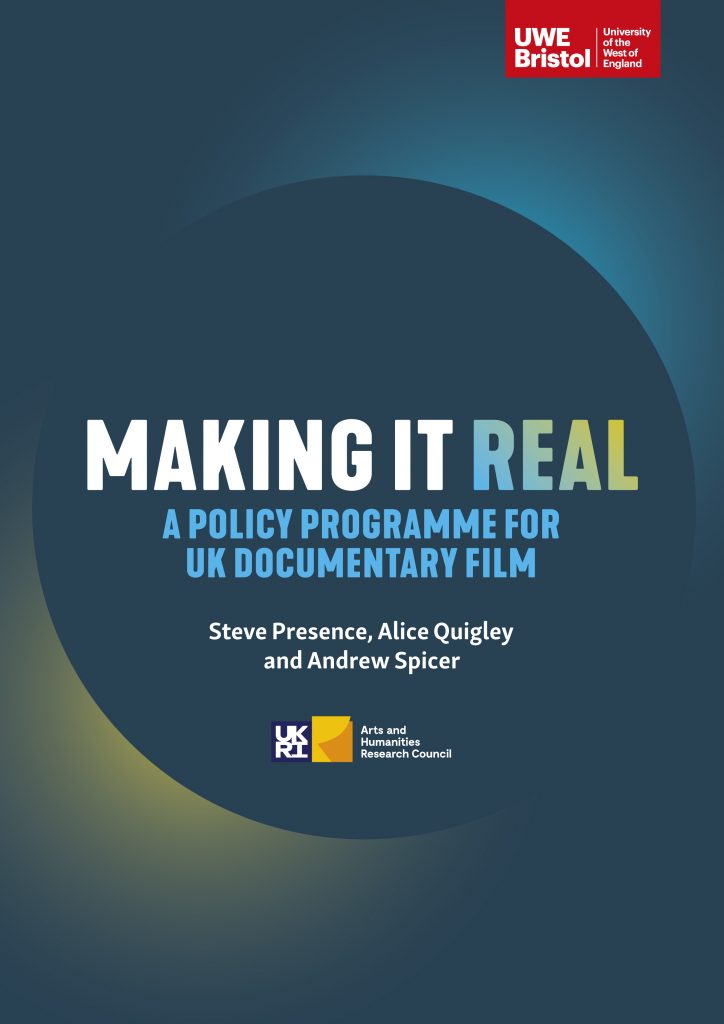 From 2018-2021, the UK Feature Docs team worked with industry stakeholders to develop proposals for a new policy framework for the documentary sector. This research was published in two policy reports. The first, Keeping it Real: Towards a Documentary Film Policy for the UK, presents the results of the largest ever survey of UK nonfiction producers and directors and makes preliminary recommendations for a fairer and more sustainable industry. The second, Making It Real: A Policy Programme for UK Documentary Film, is based on the extensive consultation that followed the first report and sets out a comprehensive set of sector-endorsed proposals for the UK documentary film industry.
Published: January 2021
Making It Real: A Policy Programme for UK Documentary Film comprises a new industrial strategy for documentary based on inclusivity, sustainability and the creation of optimum conditions for success at home and internationally.
At the core of the programme is a set of proposals for a new organisational structure, which would run alongside measures designed to address structural issues and boost funding across the industry.