Keeping it Real:
Towards A Documentary Film Policy for the UK
by Steve Presence, Andrew Spicer,
Alice Quigley and Lizzie Green
'It's so exciting to read such a detailed and comprehensive set of policy proposals for the UK feature doc sector. We have known for years that there are unique challenges to this work but now we have this great roadmap that points to some ways forward. Doc Society prides itself on being "the friend of the filmmaker" and recognises that, as the largest funder of UK feature documentary, we have a unique role to play in creating a more equitable and better funded landscape for all. We can't wait to get started on making these proposals a reality and look forward to continuing the great conversations already started with the doc community, the BFI and other sector organisations. Kudos to UWE's UK Feature Docs team for bringing this together and big thanks to all the filmmakers who contributed their experiences.' (Sandra Whipham, Doc Society)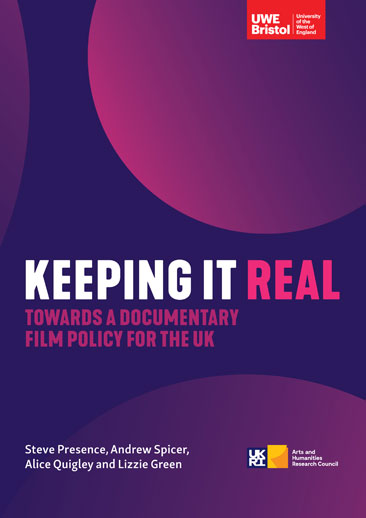 From 2018-2021, the UK Feature Docs team worked with industry stakeholders to develop proposals for a new policy framework for the documentary sector. This research was published in two policy reports. The first, Keeping it Real: Towards a Documentary Film Policy for the UK, presents the results of the largest ever survey of UK nonfiction producers and directors and makes preliminary recommendations for a fairer and more sustainable industry. The second, Making It Real: A Policy Programme for UK Documentary Film, is based on the extensive consultation that followed the first report and sets out a comprehensive set of sector-endorsed proposals for the UK documentary film industry.
Published: June 2020
Keeping it Real: Towards A Documentary Film Policy for the UK is based on the findings of a survey of over 200 UK feature documentary producers and directors.
The survey covers diversity and inclusion – including age, class, disability, ethnicity, sexuality, gender and caring responsibilities – geography, income, financing and training. It reveals a chronic lack of funding, support and coordination at the heart of the UK's feature documentary film sector.