Article
Publishing Screen Media Practice Research:
Evolving processes of contextualisation, peer review and future proofing in Screenworks
CITATION: Crofts, C. and Nevill, A. (2017) Publishing screen media practice research: evolving processes of contextualisation, peer review and future proofing in Screenworks in Media Practice and Education Volume 19, 2018 – Issue 3: Filmmaking in the Academy, pp. 283-297.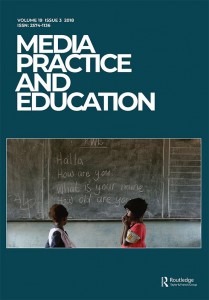 ABSTRACT
This article outlines current publishing practices in the field of academic filmmaking through a detailed discussion of the development of Screenworks, a peer-reviewed online publication of practice research in screen media. The imperative for academics working in creative disciplines to publish and articulate their practice as research has increased in recent years, driven by research evaluation exercises such as the UK REF and Australian ERA. Screenworks has been at the forefront of defining the field of peer-reviewed publication of practice research. As editors of the journal, the authors draw upon their experience, alongside personal correspondence with contributors and academics working on other practice-based publications. The article examines how and why current editorial processes have developed and outlines the opportunities and challenges facing online publication of screen media practice research. The article offers several case studies which demonstrate the unique value of dialogic peer review for evolving practice researchers, helping them not only to contextualise their practice as research in the written statement, but also amending and editing the practice itself. The issue of sustainability is also explored, namely the distinct problem of indexing and archiving audiovisual practice research outputs that is essential to ensuring both their longevity and visibility.
---
About the Authors
Dr Charlotte Crofts is Associate Professor of Film at the University of the West of England (UWE Bristol), she co-founded Screenworksin 2006 with Jon Dovey and has been Editor in Chief since 2011. She is co-convenor of the UWE Moving Image Research Group (MIRG), co-convenor of the BAFTSS Practice Research SIG and was the first MeCCSA Practice Section Chair (2007-9). She was on the Advisory Board of the AHRC Filmmaking Research Network and is a member of REF Panel D as an output assessor for sub-panel 33 and an impact assessor sub-panel 34. Her research spans traditional publication, practice and knowledge exchange, including filmmaking (both documentary and narrative), pervasive media (award-winning locative heritage apps) and curatorial practice. She has led impact case studies for REF14 and REF21. She is on the steering committee of UNESCO Bristol City of Film, is director of the Cary Comes Home Festival (established 2014). She is co-founder of the Angela Carter society and is currently developing a feature film adaptation of Angela Carter's 'Flesh and the Mirror' which has been supported by the BFI Development Fund.
Dr Alex Nevill is a cinematographer, filmmaker and Senior Lecturer and Course Leader for the BA Filmmaking degree at Kingston University, London. He has photographed several independent feature films as well as award-winning short projects. In conjunction with his practice, Alex is the author of a short monograph Towards a Philosophy of Cinematography (forthcoming, Palgrave) and has published work in the Journal of Artistic Research, the Journal of Media Practice and Alphaville Journal of Film and Screen Media. Alex studied filmmaking at the Screen Academy Scotland and completed a PhD in the Digital Cultures Research Centre at UWE Bristol with a scholarship through the AHRC 3d3 Centre for Doctoral Training. Before joining NTU, Alex taught in the School of Cinema at San Francisco State University and prior to that Ravensbourne University London. He joined the Screenworks team as an Associate Editor in 2016. www.alexnevill.com